Kobe Wine Beef A5 Wagyu Ribeye
$189.95
Availability: In Stock
*This item includes free shipping . All other products orders in your cart will also include free shipping.
Certified Japanese Hyogo A5 Wagyu Wine Beef Ribeye Steaks
Incredibly tender cut generating a sweet buttery flavor with all the distinct ribeye flavors. A crowd-pleasing cut, easy to cook to consistent perfection. Our Japanese A5 is all certified and is shipped with a certificate of authentication. Current product is a BMS score 11.
Portion: 16-18oz Cut
Description
Certified Japanese Hyogo A5 Wagyu Wine Beef Ribeye Steaks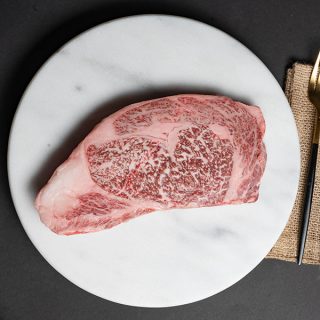 Kobe Wine Beef A5 Wagyu Ribeye
$

189.95