KNOWING

MEAT


IS OUR CRAFT
Since the Beginning
A family-owned business for over 50 years, Premier Meat Company has worked with relentless passion and integrity to raise the bar and provide our customers with the freshest, most sustainable, humanely farm-bred and raised, top-of-the-line, hand cut products.
Eat Positive
Our commitment to quality and service isn't just our philosophy; it has a deep, rich history, embedded in us by our founders who built this business together: President of Premier Meat Company Harry Greenberg, and Vice President Eldad Hadar. In an effort to pioneer continued innovation and success for the company, Harry soon brought his daughter and two sons into the fold.
Remember, we aren't just any meat company selling you our products; we're committed to giving you the complete Premier Meat Company experience from beginning to end.
What truly makes Premier Meat Company truly special are the people. The team. Every member of it, – we all do our job with an ever-burning passion in our heart!
Meet Demands. Exceed Expectations.
We offer the fastest turnaround in the business while maintaining unparalleled quality in our products.
Need to place an order at 11:00 PM with a 6:00 AM delivery? Not a problem. Our staff is standing by to take and deliver your order 24 hours a day, 6 days a week.
Handled by Experts. Hand Cut by Artisans.
We do not employ butchers; instead, we house craftsmen who hand cut all products to each individual order's specifications. Whether you're seeking meat by the whole piece or in specific portions, we can provide custom cuts and pack to any specific requirement of your choosing.
At Premier Meat Company, we're proud to offer products that are humanely raised on natural, sustainable farms. This "Smart-Farm" environment is an integral part of our dedication to deliver the highest quality protein products.
We believe in a "live healthy, eat healthy" lifestyle that goes far beyond the concepts of 'green' and 'natural'. It's about the transfer of positive energy from enriching the lives of our livestock to enriching the lives of you, our customers, upon consumption.
Our major suppliers are trusted farmers and ranchers who we're honored to call our friends. Our partners are carefully selected for their premium products, environmentally sustainable practices, humane treatment of animals and quality control.
We pride ourselves on offering the largest supply of free-range products and one of the largest inventories of free-range chickens in the industry. With regard to our processes, all chicken and fish processing, grinding and dry aging are done in house.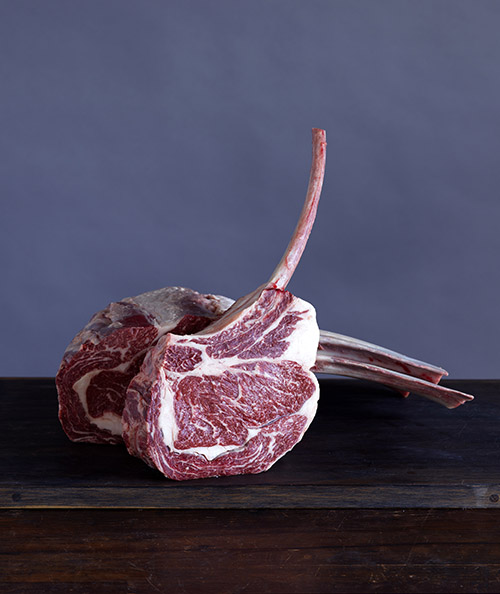 We are dedicated to production integrity on every level, and committed to delivering the highest quality proteins from the farm to the fork. Our facility has been inspected and certified by the United States Department of Agriculture (USDA). It receives random checks to ensure that cleanliness and safety remain our chief priorities.
Through strict regulations enforced by the USDA Food Safety and Inspection Program (FSIS) known as HACCP (Hazard Analysis Critical Control Points), we test every facet of our products and processes to ensure safety and cleanliness. The dedicated team of protein experts in our quality control department makes this possible.
You Are What You Eat: Quality You Can Taste.
Our meat is selected for testing at random by our quality control manager to ensure that only the highest quality products are delivered. Because of the processes and procedures that we've implemented, our products are thoroughly inspected prior to packaging. Once certified, each product is sealed with an official "inspected" sticker.
In an effort to grow this department to its maximum caliber, we've made it a top priority and recruit the highest level of quality inspectors. Only through quality control can we ensure the maximum consistency and premium quality that we have built our reputation upon.
We call these promises the Premier Meat Company (PMC) Guarantee.