Short Rib Osso Bucco Signature, Bistro Style!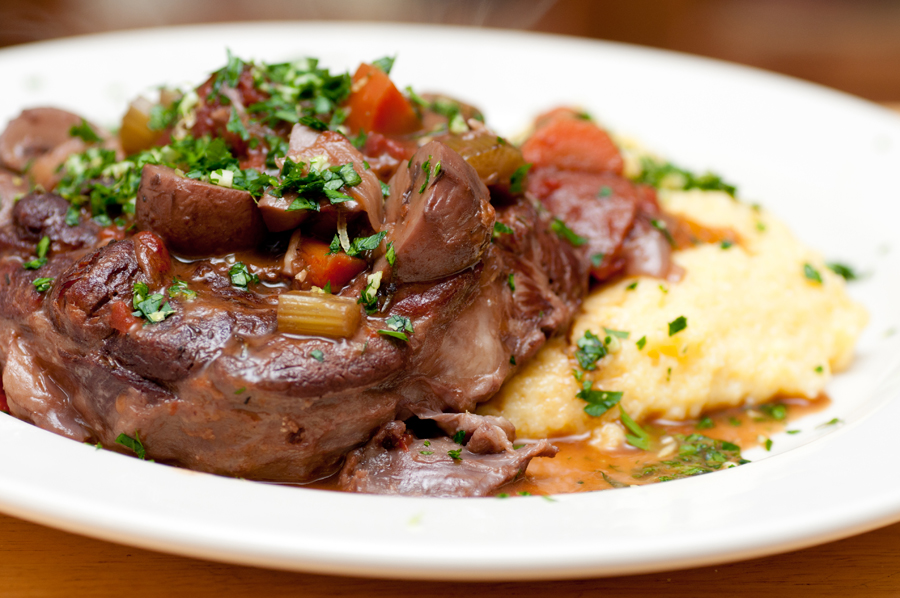 Cut small for cooking the popular Italian dish Osso Buco, these short ribs are loaded with flavor. Savor fresh, natural Black Angus beef from sustainable farms. Meaty and moist, these tasty short ribs are perfectly prepared for the traditional Italian dish, Osso Buco. With beautiful marbling, our Osso Buco short ribs stand up to bold flavors and are well suited for braising, while cut into short lengths, these beefy gemstones offer a deep flavor and are hand cut by artisanal craftspeople.
And, it's the ultimate comfort food. Sometimes, it takes 6 hours of patience and waiting for this dish to be done! However, don't fret: we went digging and although the lengthier cook time has an option of making it with Polenta, we found a shortcut with Tyler Florence and his delicious Bistro Style Short Rib recipe. Now all you need to do is order online with us and get your meat delivered right to your door, no big deal!
Ingredients:
3 tablespoons extra-virgin olive oil
4 pounds of short ribs, in 1 long piece or at least in pairs
Kosher salt and freshly ground black pepper
1 medium onion, chopped
2 carrots, chopped
1 large tomato, quartered
3 ribs celery
1/2 head garlic, peeled
1/4 bunch of fresh thyme
1 1/2 cups dry red wine
2 cups low-sodium, organic beef stock
4 tablespoons chopped flat-leaf parsley
Directions:
Preheat a cast iron grill or outdoor grill.
Season the short ribs with salt and pepper, drizzle with a little extra-virgin olive oil, and brown on all sides.
Place the onion, garlic, celery, carrot, and tomato into a food processor and blend until you reach a consistent, smooth pulp.
Take a large Dutch oven and place it over medium-high heat. Add a 3-count of extra-virgin olive oil and add the thyme to infuse the oil. Next add the vegetable pulp, season with salt and pepper, to taste, and cook for about 10 minutes. Pour in the red wine and stock and bring it to a boil. Using tongs take the ribs and nestle them into the braising mix; the liquid should just about cover the meat. Place the lid loosely on top, reduce heat to a simmer, and cook until the meat is very tender approximately 2 1/2 to 3 hours.
When the ribs are about finished, remove about 1 to 2 cups of liquid and strain into a small saucepan over medium-high heat. Heat the sauce until slightly reduced and thickened, about 5 minutes.
Hungry for more tips? Follow us on Instagram + Twitter!