When you start to prepare a 6oz or 8oz filet mignon prime steak, the cut looks small. However, once you start eating it, you'll discover that the meat is so rich, it's far more filling than you imagined. This often means you have leftover filet mignon that needs to be used up.
We've compiled a few recipes that we think are perfectly suited for left over filet beef steaks.
Filet Mignon Prime Steak and Asparagus Stir-Fry
Hands down, this is our favorite spring time recipe for using up leftover filet mignon steak. We feel that prime filet and extra fresh asparagus are an unbeatable combination. This stir-fry only takes about 30 minutes of combined prep and cooking time. It's really filling and something that is nice enough to serve when you have company over.
What you Need
11/2 cups uncooked brown, white, or wild rice
tbls cornstarch
3/4 teaspoon ginger-ground
½ teaspoon curry
1/4 teaspoon of fresh black pepper-medium ground
1/2 cup cold water
All of your left-over filet mignon prime steak
1/4 teaspoon pepper
2 sliced carrots-uncooked
2 cups of fresh asparagus-uncooked
½ cup of fresh mushrooms-uncooked
1 cup of fresh broccoli-uncooked
1/4 cup soy sauce
1/4 teaspoon garlic powder
2 tablespoons canola oil, divided
Different types of vegetables can be added to the recipe
Putting it all Together
In separate pots, cook the rice and steam the fresh veggies. While these cook, cut your leftover filet mignon prime steak into cubes.
Mix your water, cornstarch, curry, ginger, pepper, garlic powder, soy sauce together. Keep mixing until the ingredients are smoothly blended.
Place one tablespoon of your canola oil in your largest nonstick skillet and turn the burner to medium-high. Add your freshly steamed veggies and lightly sauté them.
Now add both your freshly mixed ingredients and the last spoonful of your canola oil. Allow the mixture to boil for approximately a 1 ½ minutes. Add the leftover filet mignon prime steak and allow it warm. Once the sauce has thickened, you can pour it over your rice and serve.
---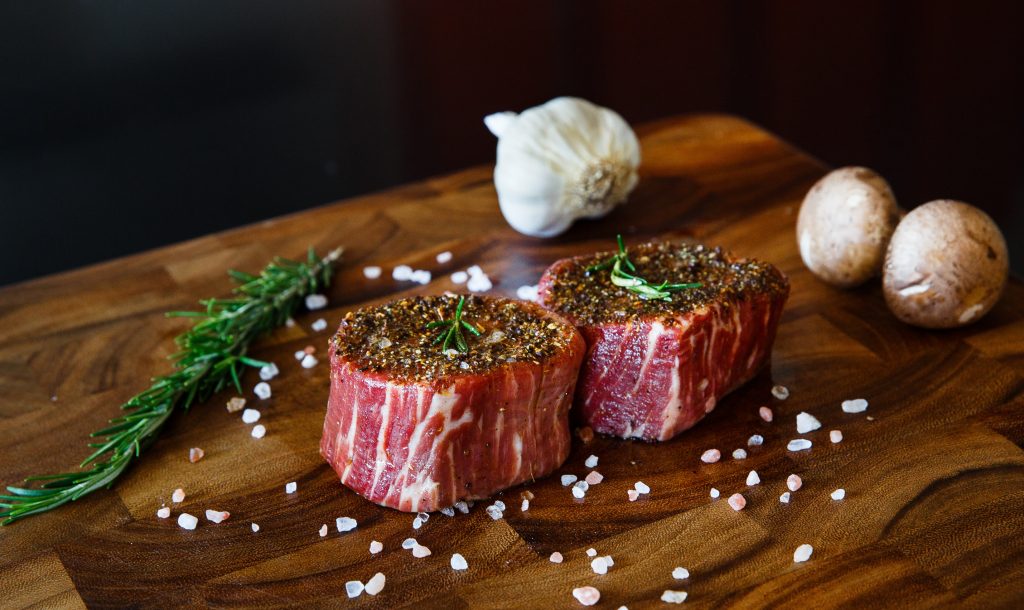 Filet Mignon Prime Steak Stroganoff
During the winter, you really can't go wrong when you use your left-over filet mignon prime steak and make this filling stroganoff. The colder the outside temperature, the better this stroganoff tastes.
What You Need
1 cup of beef stock
2 tablespoons of extra-virgin olive oil
3 tablespoons of sour cream
½-1 pound of leftover filet mignon prime steak cut into cubes
3 1⁄2 tablespoons butter-unsalted
1 teaspoon Dijon mustard
1 tablespoon all-purpose white flour
A dash of freshly ground pepper
A pinch of tablesalt
3⁄4 lb mushroom-preferably cremini if available
1⁄2 cup sliced shallot-sliced thin
2 tablespoons fresh dill-coarsely chopped
1 bag of egg noodles
Putting it all Together
Set your sour cream on the counter and let it warm to room temperature
Turn a burner to moderate heat and melt 1 1/2 tablespoons butter. Once that's melted, ad your beef stock and allow the mixture to boil. You'll need to frequently stir it so the mixture doesn't burn.
Place a heavy skillet on a burner and turn the temp to moderately high heat and warm 1 tables spoon of olive oil before adding the filet mignon. Since you're working with leftovers, you'll only want to warm the filet steak. If you're using raw filet for the recipe, cook it until it's browned.
Transfer the filet to a plat and add a tablespoon of butter and olive oil to skillet.
Add the shallots and allow them to cook for about 3 minutes or until a nice golden-brown color, before adding your mushrooms.
Start cooking your egg noodles
Let the mushrooms and shallots chook for about 8 minutes before adding your filet mignon steak.
Warm the butter/beef stock sauce before missing the sour cream, dill, salt, pepper, and Dijon mustard.
Mix the meat sauce with the butter/beef stock and pour over your noodles and serve.
---
Filet Mignon Prime Steak and Asparagus – Fontina Pizza
This recipe is a perfect marriage of asparagus, filet steak, and pizza. We make it a lot during the fall because it's the perfect food to snack on while watching a football game.
What you Need
One large bunch of asparagus
Leftover filet mignon prime steak (the idea amount is between 2 and 4oz)
1 red pepper, roasted and coarse diced
Pizza dough, either a store bought tube or homemade
2tsp dry active yeast
1 package of sliced mushrooms
1 cup of parmesan cheese, freshly grated
½ cup of shredded fontina cheese
1 tsp of white sugar
½ cup of water-warm
1 2/3 cup of water-also warm
1tsp of salt
5 cups of all-purpose flour
3 tbsp of extra virgin olive oil
2 tbsp of wheat flour
A dash of cornmeal
If you want, you can add a few ounces of either fresh or imitation crab meat to the pizza
Putting it all Together
Chop up the asparagus into 1/4-inch pieces.
Lightly sauté your mushrooms in garlic and butter sauce.
Use a ½ cup of warm water to dissolve both your yeast and the white sugar. Once they're completely dissolved, add ½ cup of all-purpose flour. Set this aside for 15 minutes. Don't be surprised when the top bubbles.
Mix your wheat flour, salt, and the remainder of your all-purpose flour. Mix in 2 tbs of olive oil and your now bubbly yeast/sugar mix. Mix these together and keep mixing until the resulting dough is both smooth and sticky.
Transfer the dough to an oiled bowl. Cover the dough with a towel, and let it rise. It takes approximately 1 1/2-2 hours for the yeast to work its magic.
Slice your leftover filet mignon prime steak.
Steam the asparagus bits until they're tender.
Start preheating your oven. The idea setting is 475F for convection ovens, and 500F for all other ovens.
While the oven heats up, punch the dough before dividing it in half and flatten each half to your desired pizza diameter and thickness. Pull out your pizza pan and sprinkle it with a little cooking oil and cornmeal before placing your pizza dough on it.
Brush a light layer of truffle oil on your dough before covering the dough with ½ the cheese, asparagus, sautéed mushrooms, filet mignon prime steak, pepper and parmesan. Place the other half of your ingredients on the other pancake of pizza dough.
Bake the pizza until the dough is a light brown and the cheese has melted. It generally takes 12-20 minutes for it to bake.
What's your favorite recipe for leftover filet mignon steak?