Our Grass Fed Burger Patties
If you think about it, hamburgers have come a long way. What started out as the basic beef patty, lettuce, and tomato sandwiched between two buns has developed into all kinds of variations from cheeseburgers to gourmet burgers that are too big to bite into! And the best part is anybody can make them! You can order for a hamburger delivery and then cook it and dress it up with all the toppings you want. If you're wondering how creative burgers can get, check out our recommendations below.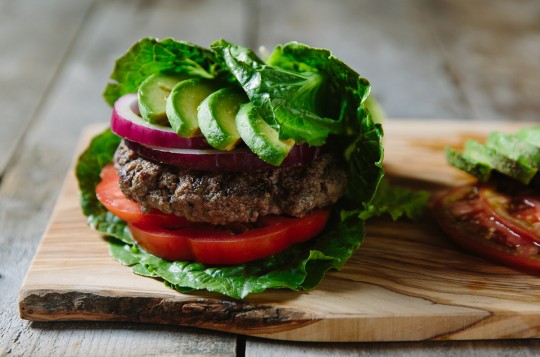 The Bun
You can go for the regular bun with sesame seeds, but there is also potato, brioche, english muffin, pretzel, ciabatta, whole grain or wheat. Your bun can be toasted or not, up to you.
The Meat
Beef is the standard, but there is also turkey, chicken, veggie, even tofu. Check out our recipe for bite-sized lamb sliders! You can also consider dicing up ingredients like bacon, onions, or peppers and mashing them right in the patty too. Don't forget to season it with salt and pepper! For convenience, have Premier Meat Company take care of your hamburger delivery needs!
The Cheese
Cheddar, swiss, mozzarella, monterey jack, blue, brie, goat, munster – any cheese you want, go for it! For gamy meats like lamb or buffalo, a pungent cheese like blue will suit your burger well.
Additional Toppings
Lettuce, grilled onions, sauteed mushrooms, avocado or guacamole, tomato, bacon, fried shoestring onions, sour cream, jalapenos, pickles, even fries. You can literally put any food you want on your burger, and it'll still be considered a burger.
Sauces
Ketchup, mustard, and mayo are common, but maybe be a bit adventurous and try BBQ, an aioli (like a garlic-pesto aioli), Sriracha, hoisin, honey mustard, sour cream, something with a citrus zing, etc. Sauces are endless! You trust what you like taste-wise, and you're good.
Burger Night Could Never Get Old
Creating your own burgers at home can be fun with friends or the whole family so get the kids involved! You do the cooking and chopping, the kids can do the building. Let your imagination run wild because as we mentioned, you can put whatever sauces, toppings, and meat in your burger, and it will still be a burger.
Hundreds of burger places are popping up all the time because there's no right or wrong way to make your own burger- that's the beauty of it. So what are you waiting for? Order your hamburger meats for delivery from PremierMeatCompany.com and get started on the fun! Word of caution: be prepared to get your hands dirty!