It's just like any one of our artisan butchers or talented guest chefs will tell you; if you want to cut the best fillet, you need the best tools. A good quality knife is any chef's secret weapon in the kitchen, and just like Premier Meat Company works to provide the highest quality meats to the aspiring home cook, we want to arm them with the knowledge and know-how to make every home dinner a culinary success.
Anatomy of Knives
The first step in making an educated knife purchase is knowing the different parts that make them up. There's the: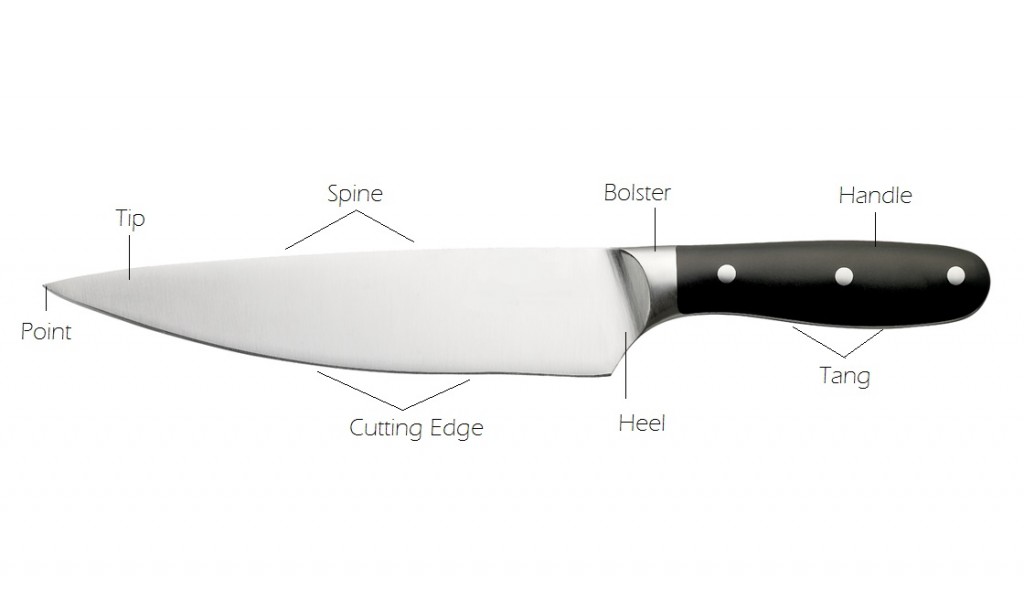 Tip – the point of the blade furthest away from the handle. Knives typically have pointed tips for piercing, cutting, and separating foods into very small portions. Knives with round tips are used for slicing into very thin portions.
Edge – The edge is the sharp cutting part that runs along one side of the knife blade from tip to heel. Maintaining a sharp edge at all times on your knife is crucial for ease of cutting and personal safety.
Spine – Top side of the blade, directly opposite to the edge.
Heel – Thick base of the knife blade right before the handle, used to cut tougher products with more force.
Bolster – A thick ring of steel that prevents the user's hand from slipping across the blade. Only heavier forged knives have this part as it is heavy.
Tang – The tang is the tail end of the blade that extends into the handle to provide support and leverage. A Full-tang knife is considered the best for maintaining a handle intact after repeated high-pressure usage.
Handle – The handle, or scales, is the grip of the knife. Handles can be wood, plastic, or stainless steel. Wooden handles are most common because they provide the best "grip" under different circumstances, whereas stainless steel handles are the lowest maintenance, but may become slippery under many circumstances.
Knife Blade Material
Arguably the most important detail in knife purchasing is the material that the blade was made out of. Different materials make a blade with varying characteristics of sharpening, strength, and edge holding.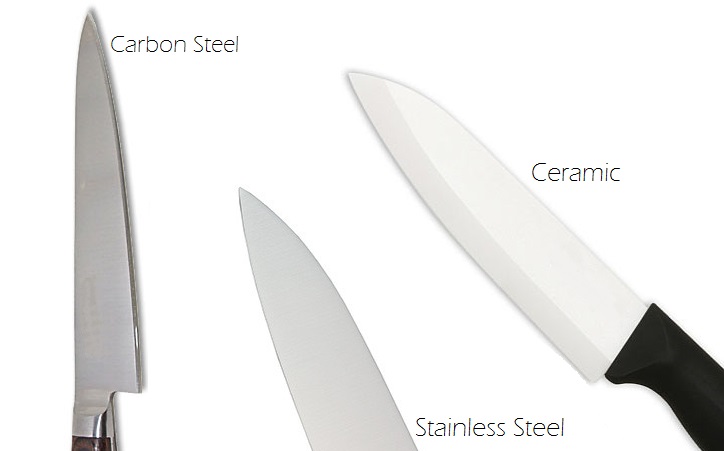 Carbon Steel is a mixture of iron and carbon that makes a hard but brittle blade that is susceptible to rusting and discoloration, and so, requires the most upkeep and care. Users of these types of blades clean the knife immediately after use, removing excess moisture to avoid rusting or staining and coat with mineral oil after use for storage. However, many cooks would agree the maintenance is well worth it as carbon steel can hold an extremely sharp edge for extended periods of time.
Stainless Steel blades are substantially lower maintenance than their carbon steel and ceramic counterparts but are generally a softer metal, causing the edge to wear down after less use. Stainless steel knives rust less easily, break infrequently, and are the more affordable options between materials. These knives are ideal for less experienced home cooks or even experienced home cooks on a time budget.
Ceramic blades are the most expensive option of the three but keep their edge for the longest time. These knives do not rust, discolor, or leave a metallic taste or coloring during cutting. However, ceramic blades are brittle and tend to break when dropped on a solid surface, and although these knives rarely require sharpening, they do dull and when they do, the sharpening process is the most difficult and specialized of the blade options. These blades are not suitable for cutting through bones or frozen foods.
Blade Production Method
And finally, believe it or not, it's not only important what your knife is made of but how your knife was made. Every knife that was commercially made, was created using one of two methods; forging and stamping.
Forged Knife Blades are made by heating a solid piece of metal, which is the blade's material, to the molten point, then compressing it into shape with hammer-like machinery. The formed blade is then ground and honed to make its final shape and edge. This forging process creates a blade that is:
• heavier, stronger than stamped knives
• better leveraged than stamped knives
• less flexible than stamped knives, keeping its edge longer
• more expensive than stamped knives
Stamped Knife Blades are die-cut from a sheet of metal into the basic knife shape. Next, the blade blanks are sharpened through a multi-step grinding and honing process.
• Have a thinner and lighter blade than forged knives
• Do not have a bolster between the heel and handle
• are more flexible by design
• Are less expensive than forged knives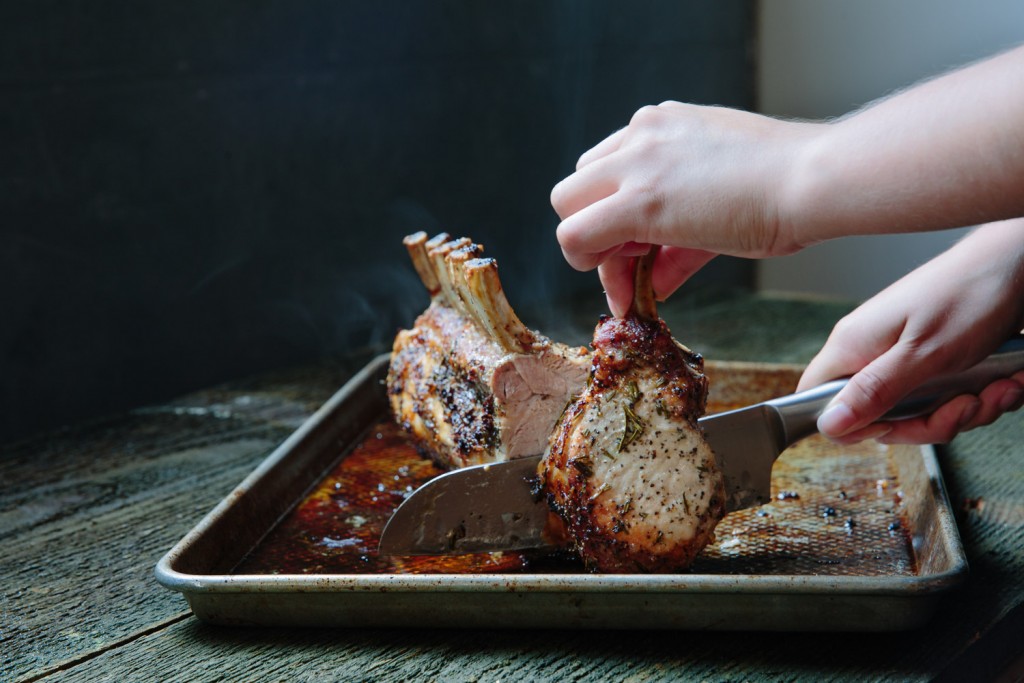 When you treat yourself to a high-quality knife, that is best for your personal needs and preferences, the rest of dinnertime just falls into place. And when you combine top-quality cutlery with top-quality meats, the result is fine home dining which is a reward in itself. Order now from our online selection of artisan meats and start preparing restaurant-quality food today.