Besides it's rich, spicy, nutty flavor, its simple preparation and nutritious chicken and veggies combination, you can embrace the true beauty of this, or any, stir fry recipe: it's flexibility. Feel free to use any vegetables you have on hand. Vegetarians or vegans may omit chicken or substitute tofu, and when served with quinoa or millet, this stir fry is gluten free. No excuses not to spoil yourself with delicious food!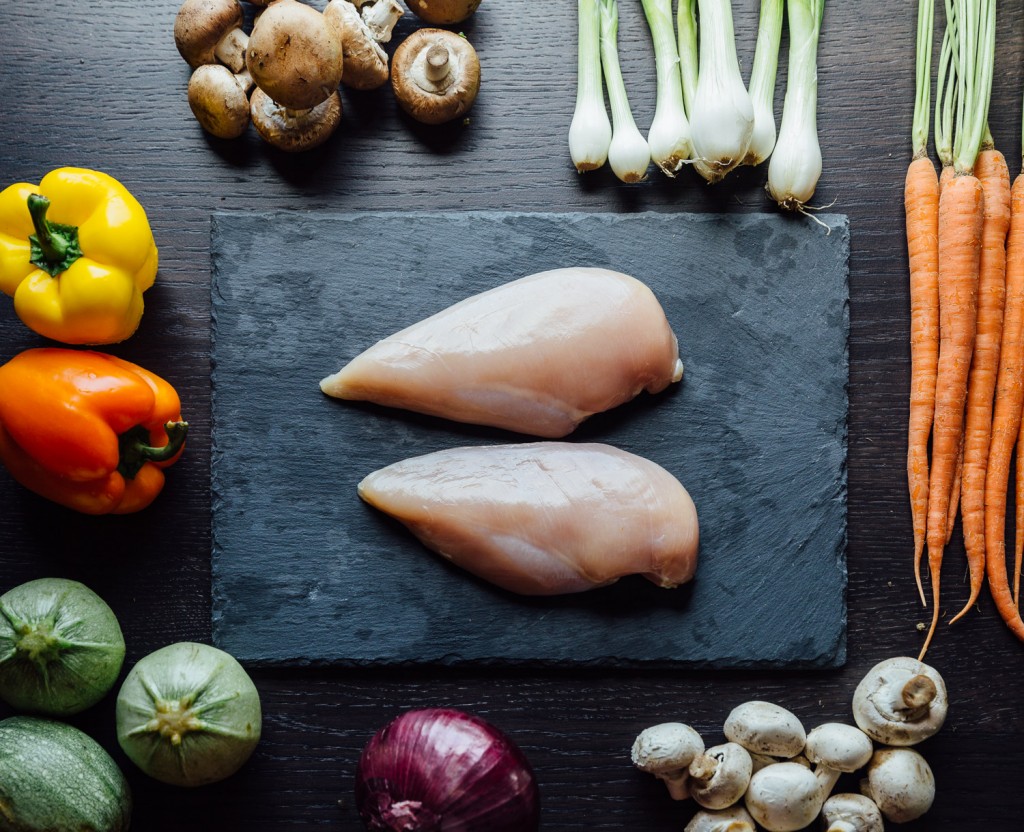 INGREDIENTS
2/3 cup creamy peanut butter
1/3 cup water
1/4 cup brown sugar
3 tablespoons reduced sodium soy sauce, divided
1 tablespoon fish sauce
3 tablespoons red curry paste
2 tablespoons rice vinegar
1 tablespoon minced fresh ginger
4 teaspoons red pepper flakes, divided
4 tablespoons extra virgin olive oil, divided
2 tablespoons minced garlic (about 6 cloves)
1 medium onion, thinly sliced
12 ounces boneless, skinless chicken breast (about 2 breasts), cut into 1/2-inch
28 ounces frozen mixed vegetables of choice, thawed (or substitute fresh)
10 ounces fresh mushrooms, sliced (or substitute any fresh or frozen, thawed vegetable)
1/2 cup unsalted dry roasted peanuts, chopped, plus additional for serving
1/2 cup chopped fresh cilantro, plus additional for serving
Prepared brown rice, quinoa, or whole wheat spaghetti, for serving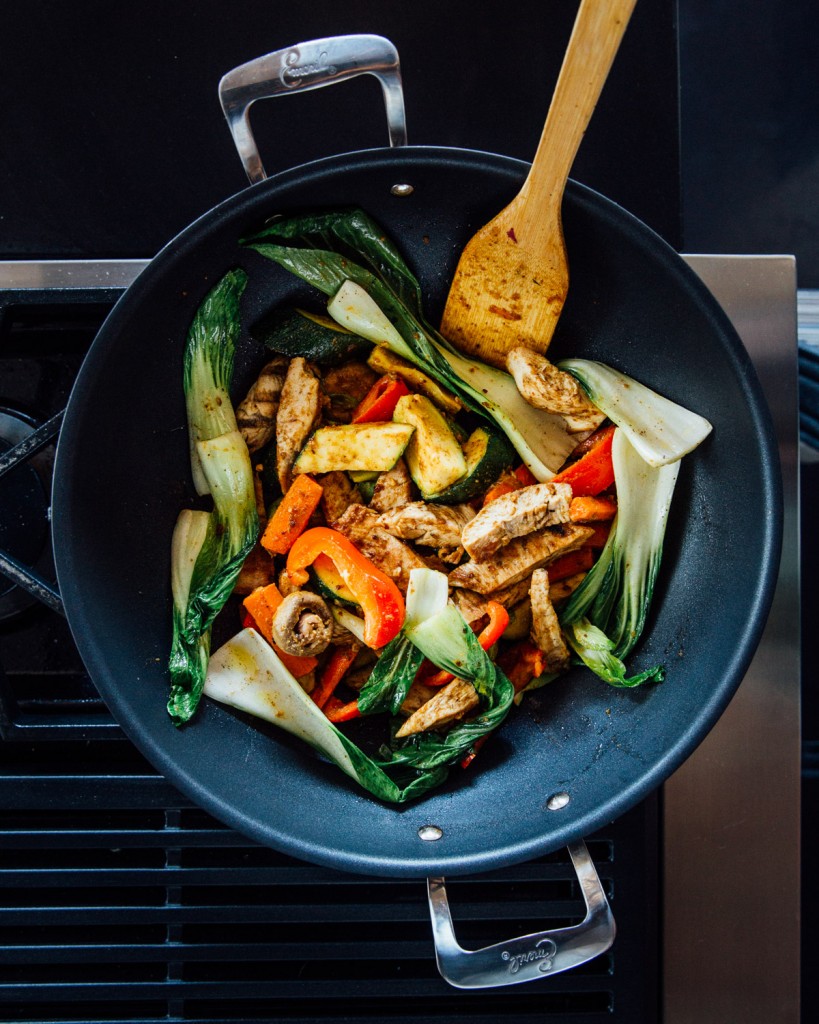 DIRECTIONS
In a medium bowl, whisk together peanut butter, water, brown sugar, 1 tablespoon soy sauce, fish sauce, curry paste, rice vinegar, ginger, and 2 teaspoons red pepper flakes until smooth. Set aside.
In a large wok or deep skillet, heat 2 tablespoons olive oil over medium high heat. Add onion and cook until fragrant and beginning to soften, about 3 minutes. Add garlic and cook 30 seconds. Add chicken sauté, stirring occasionally, until the middles are no longer pink and juices run clear, about 5 minutes. Remove chicken from pan and set aside.
Add remaining 2 tablespoons olive oil to pan. Add vegetables and mushrooms and saute until crisp-tender, about 6-8 minutes, depending on the veggies selected.
Return chicken to pan. Add reserved peanut sauce and remaining 2 tablespoons soy sauce and 2 teaspoons red pepper flakes. Toss to coat evenly and cook until heated through, about 2 minutes. Stir in peanuts and cilantro.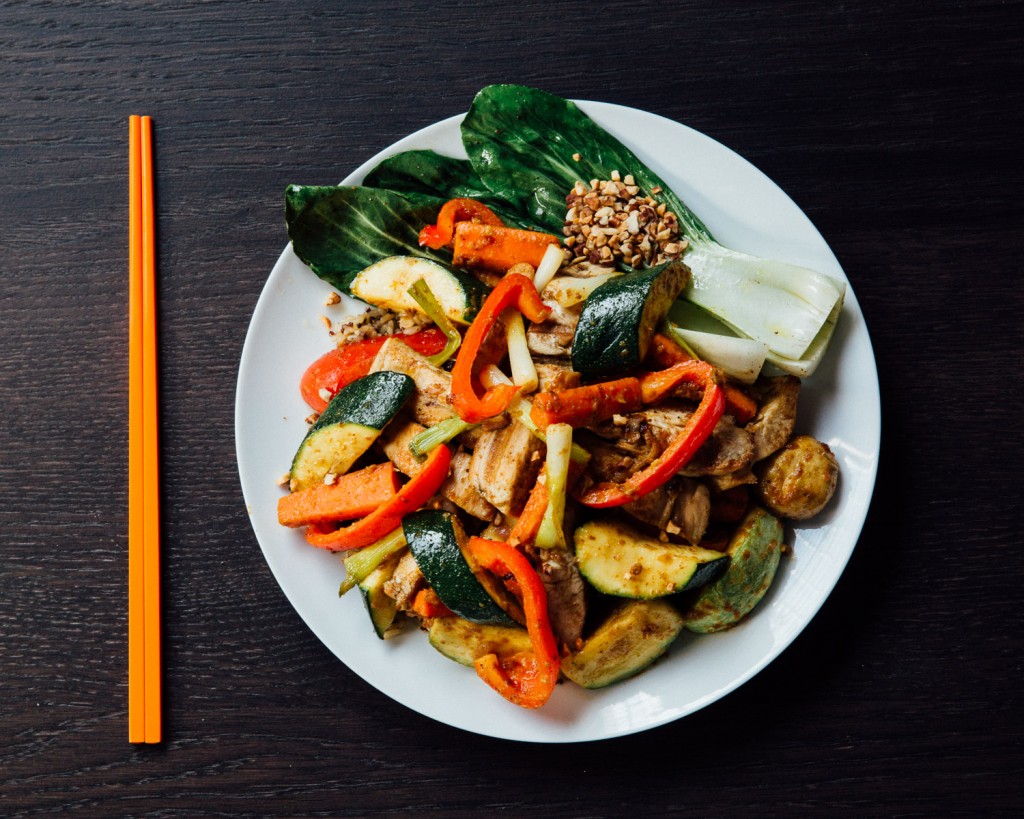 Serve stir fry with prepared brown rice, quinoa, or whole wheat spaghetti. Garnish with additional chopped peanuts and cilantro, as desired.
Thai red curry paste and fish sauce are widely available at most grocery stores in the Asian food aisle. Store leftover Chicken Stir Fry with Thai peanut sauce in the refrigerator for up to 1 week or freeze for up to 2 months.
To keep up with all our latest posts, follow our Twitter and like us on Facebook and never be short of new recipes to try.
If you can't get enough pictures of food, follow our Instagram for daily helpings!