These yummy morsels are a sure-fire delicious treat at your next get-together. Deviled and garnished with our fresh, uncured spiral ham, this classic egg recipe can never be overdone. Your guests will be expecting the best, so don't be afraid to lay it on them!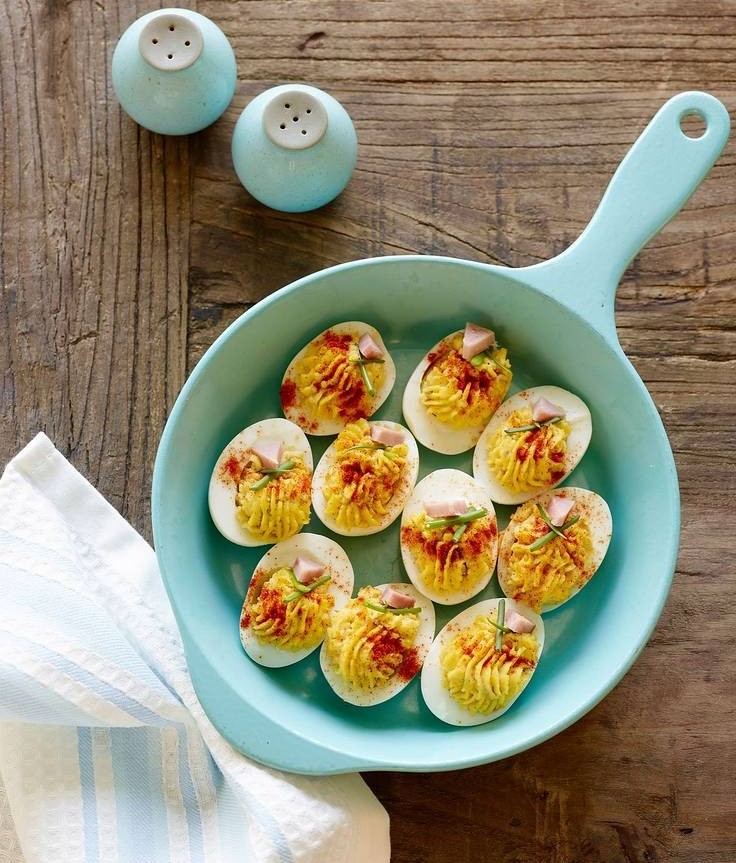 INGREDIENTS
15 eggs
1/2 cup shredded sharp cheddar cheese
1/2 cup mayonnaise
1 small shallot, diced
1/4 c diced ham
2 tbsp mustard
1/2 tsp nutmeg
salt and pepper to taste
paprika and chives to top
triangled ham to garnish
DIRECTIONS
Boil eggs in large pot over high heat. While your eggs are boiling, prepare your yolk mixture. Grate 1/2 cup of cheddar cheese and mix in the mustard, diced shallots and ham. Stir together then cover with plastic or foil and set aside until eggs have boiled.
Once pot of water has reached boiling point, remove from heat and set aside to let cool down. Drain eggs from water. Skin the shells off your boiled eggs and cut them in half lengthwise. Remove boiled yolks from the whites and add to your cheese and ham mixture. Mix the yolk and cheese mixture well to fully incorporate. We recommend you add 1/2 cup of mayonnaise at this point however this depends on your preferred consistency. Add salt and pepper to taste.
Once you've stirred this well, you will be adding this back into the egg cavities. The filling can be piped into the egg cavity or spooned into it for different presentations.
garnish with chives and small ham triangles. Sprinkle with paprika for another kick of flavor and serve!