A lovely holiday log with a lot less of the "yule" bit. A fresh Chateaubriand wrapped in a pastry skin and mushroom duxelle will dominate any dinner table during the holidays. A roast needn't always be a bird of fowl or a rack of ribs to be bountiful and infinitely beautiful.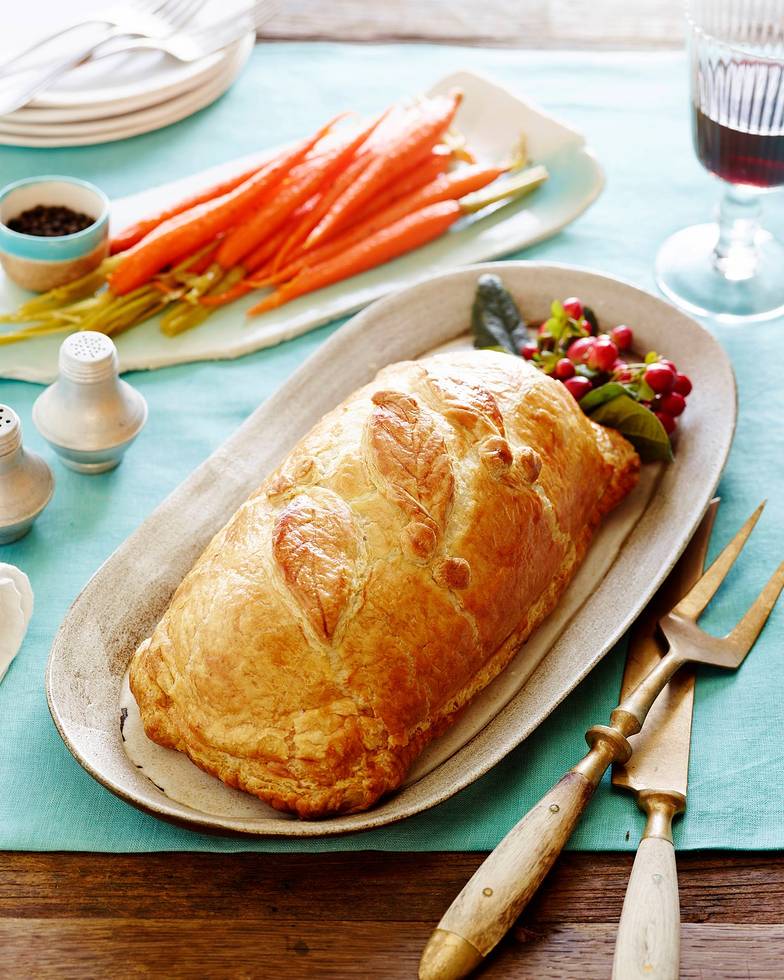 INGREDIENTS
FOR THE DUXELLES:
1 1/2 LB white button mushrooms
2 shallots, peeled and chopped
4 cloves garlic, peeled and chopped
2 sprigs fresh thyme leaves
2 tablespoons unsalted butter
2 tablespoons extra-virgin olive oil
Kosher salt and freshly ground black pepper
FOR THE BEEF:
32oz Beef Chateaubriand Filet
Extra-virgin olive oil
Kosher salt and freshly ground pepper
12 slices prosciutto
6 sprigs of fresh thyme leaves
2 tablespoons Dijon mustard
Flour, for rolling out puff pastry
1 LB puff pastry
2 large eggs, lightly beaten
1/2 teaspoon course salt
minced chives
DIRECTIONS
FOR THE DUXELLES:
Add mushrooms, shallots, garlic, and thyme to a food processor and pulse until finely chopped. Add butter and olive oil to a large saute pan over medium heat. Saute the mushrooms and shallots for 8-10 minutes until most of the liquid has evaporated. Season with salt and pepper and set aside to cool.
FOR THE BEEF:
Tie your tenderloin in 4 places so that it holds its shape during cooking. Drizzle with olive oil and season with salt and pepper. Sear on all sides including the ends in a hot heavy skillet for about 2-3 minutes. Set out a sheet of plastic on top of your cutting board and shingle out your prosciutto until it is big enough to wrap your entire tenderloin. Cover your prosciutto in the duxelles sauce. Season with salt and pepper and sprinkle with fresh thyme leaves. Remove your meat from heat when it is seared and cut off twine. Smear your tenderloin in Dijon mustard and let cool before rolling it up in the duxelles-prosciutto sheet. Once you've wrapped up your chateaubriand, tie it tightly in 4 different places. Twist the ends to hold in a log shape and let it sit in the refrigerator for 30 minutes to ensure it maintains shape.
Preheat oven to 425°F
Roll out your puff pastry to ~1/4″ in thickness. Remove beef from the fridge and remove plastic. Wrap your log in the puff pastry and seal with an egg wash then wrap up the ends and seal as well. Rub down your whole pastry-covered log with egg wash, cut slits and season with salt. Place your log seam-side-down on a baking sheet and bake for 40-45 minutes until pastry is golden brown and the beef measures 175°F internally. Remove from oven and let rest.
Serve with a side of potatoes and winter greens.
Happy Holidays!