An amazing combination of herbs and spices makes this mouth-watering lamb sandwich the perfect choice for a more refined taste. The burger is given a unique, enhanced twist with a tangy topping of feta, arugula, olives, and sun-dried tomatoes.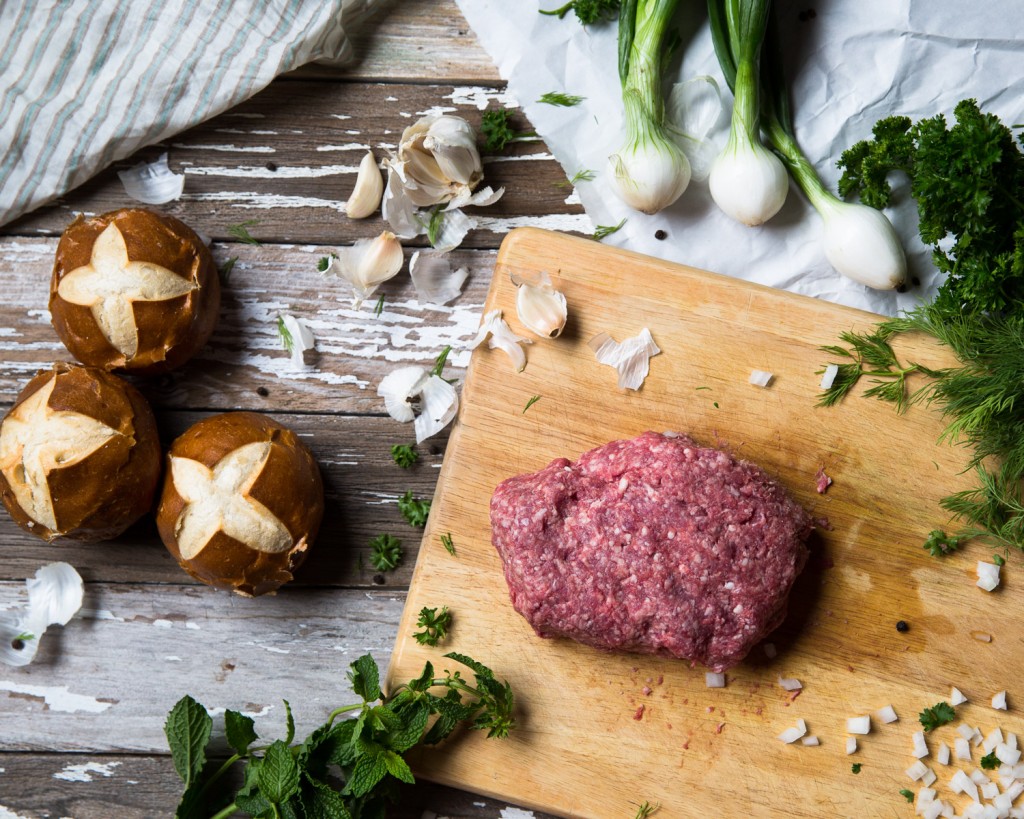 INGREDIENTS
2 tbsp. plus 2 tsp. extra-virgin olive oil
3 tbsp. minced yellow onion
12 oz ground Lamb
4 oz. ground pork
2 tsp. dijon mustard
1 tsp. each finely chopped parsley,
mint, and dill
1 tsp. dried Greek oregano
1⁄2 tsp. ground coriander
1⁄2 tsp. ground cumin
3 cloves garlic, finely chopped
1 scallion, chopped
Kosher salt and freshly ground black pepper,
to taste
1⁄3 cup crumbled feta cheese
10 leaves baby arugula
8 black olives in oil, drained, pitted,
and roughly chopped
8 sun-dried tomatoes in oil, drained
and roughly chopped
2 tsp. fresh lemon juice
2 hamburger buns, toasted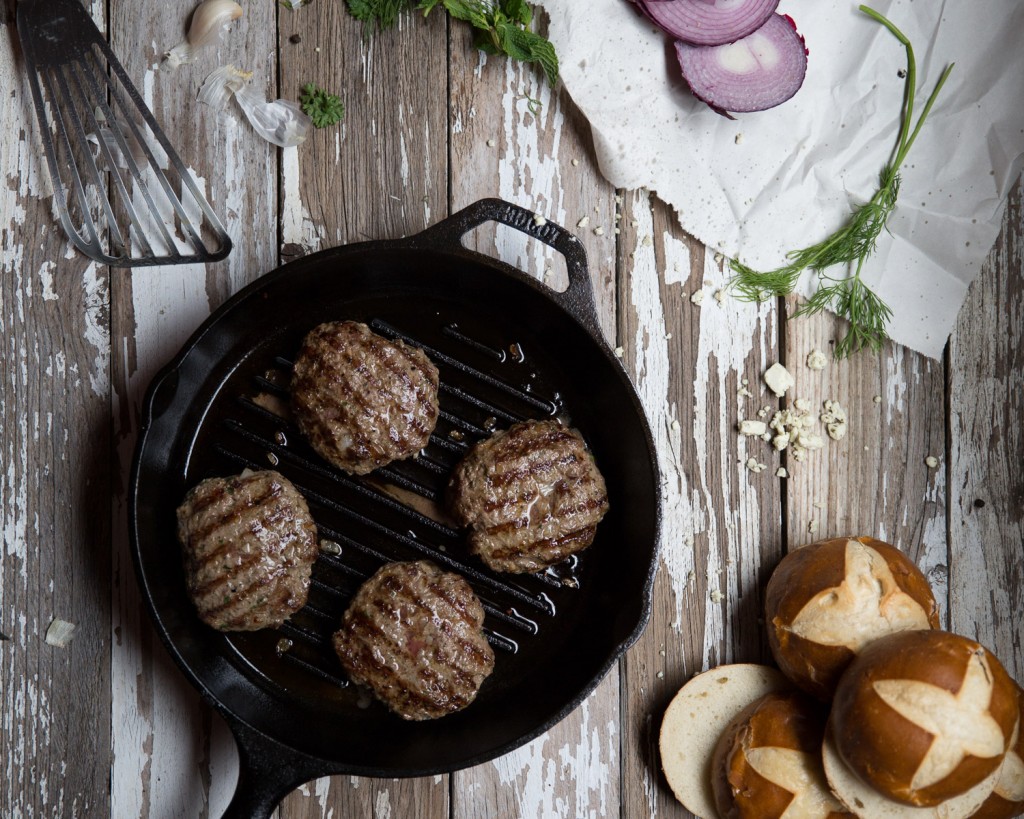 DIRECTIONS
Heat 2 tbsp. oil in an 8″ skillet over high heat. Add onions and cook until browned, about 6 minutes. Transfer onions to a plate and let cool. In a bowl, mix the onions, lamb, pork, mustard, herbs, spices, garlic, scallions, salt and pepper. Form meat into two 1″-thick patties; set aside.
Prepare a medium-hot charcoal fire or heat a gas grill to medium-high (or heat a tablespoon of canola oil in a large cast-iron skillet over medium-high heat). Grill burgers, flipping once, until browned and cooked to desired doneness, about 10 minutes for medium rare. In a small bowl, combine feta, arugula, olives, and sun-dried tomatoes then toss with the remaining oil and lemon juice and season with salt and pepper. Place each burger on the bottom half of a bun and top each with the vegetables and bun top.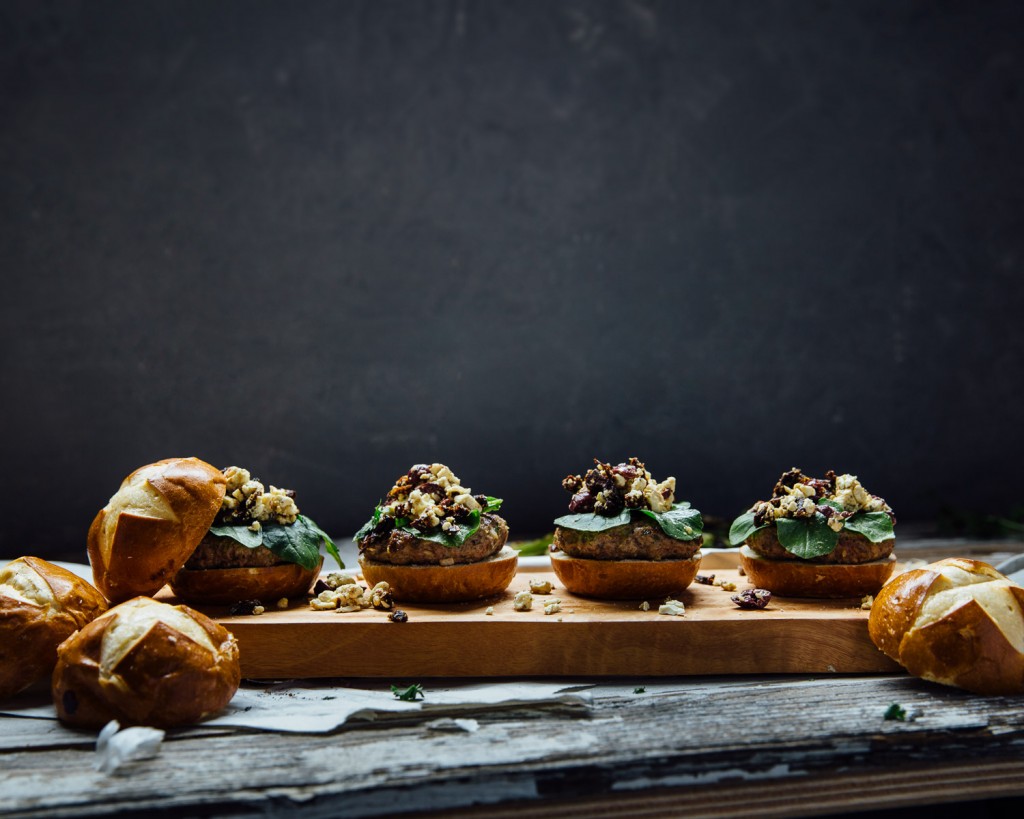 Pairing Note: A juicy, spicy red like the Cristom Vineyards Syrah 2005 from Oregon, complements this lamb burger, with its vibrant flavor.
To keep up with all our latest posts, follow our Twitter and like us on Facebook and never be short of new recipes to try.
If you can't get enough pictures of food, follow our Instagram for daily helpings!
Happy Cooking!