A strip of tender new york on one side and slab of juicy filet on the other really makes this cut of beef the best of both worlds. Treat yourself or your family with this easy-to-master recipe for a pleasant and elegant dinner.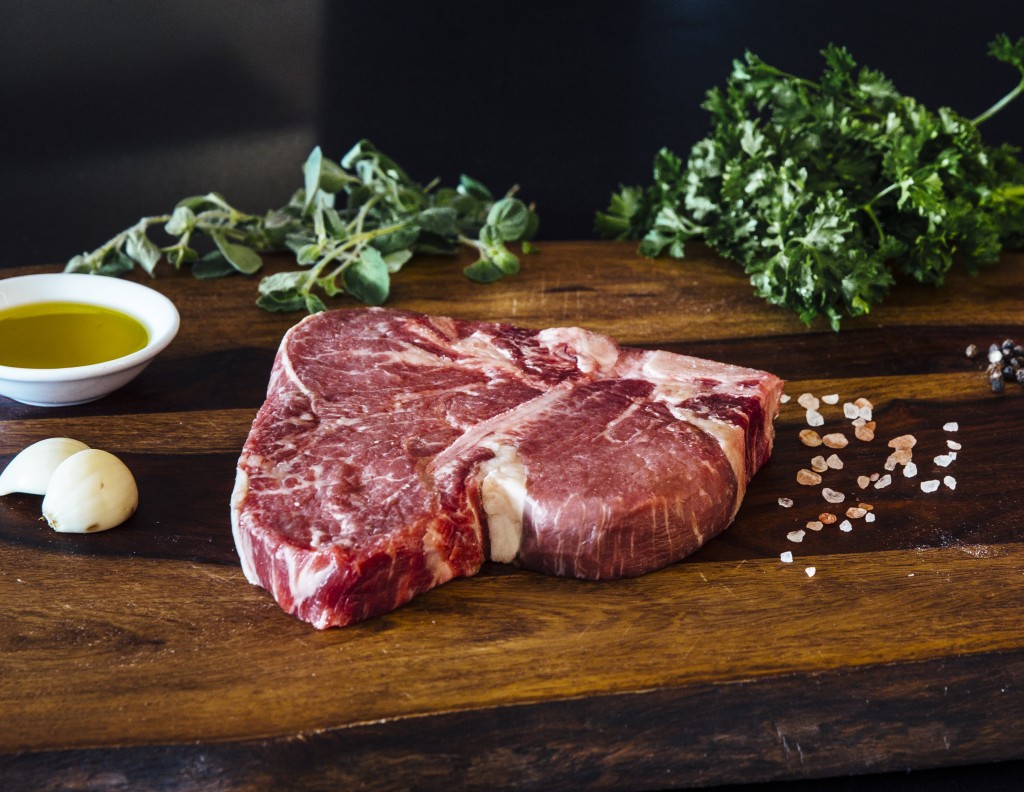 Ingredients
2 (14-ounce) porterhouse steak, at room temperature
Kosher salt and freshly ground black pepper, to taste
2 tbsp. canola oil
4 tbsp. unsalted butter
6 sprigs thyme
1 lemon, halved crosswise
Directions
Season steak heavily on both sides with salt and pepper; let sit for 30 minutes. Heat oven to 500°. Heat a 12″ cast-iron skillet over high heat until it begins to smoke. Add oil and steak; cook until lightly charred on one side, about 3 minutes. Flip steak, and transfer skillet to oven; cook until medium-rare and an instant-read thermometer reads 140°, about 5 minutes. Transfer steak to a platter, and let rest for 10 minutes.
Meanwhile, pour off pan drippings and return skillet to stove over high heat. Add butter and then thyme and lemon halves, cut sides down; cook until golden brown, about 4 minutes. Remove from heat. Slice steak around the bone. Transfer to plates, and drizzle with butter from skillet. Serve with the lemon for drizzling.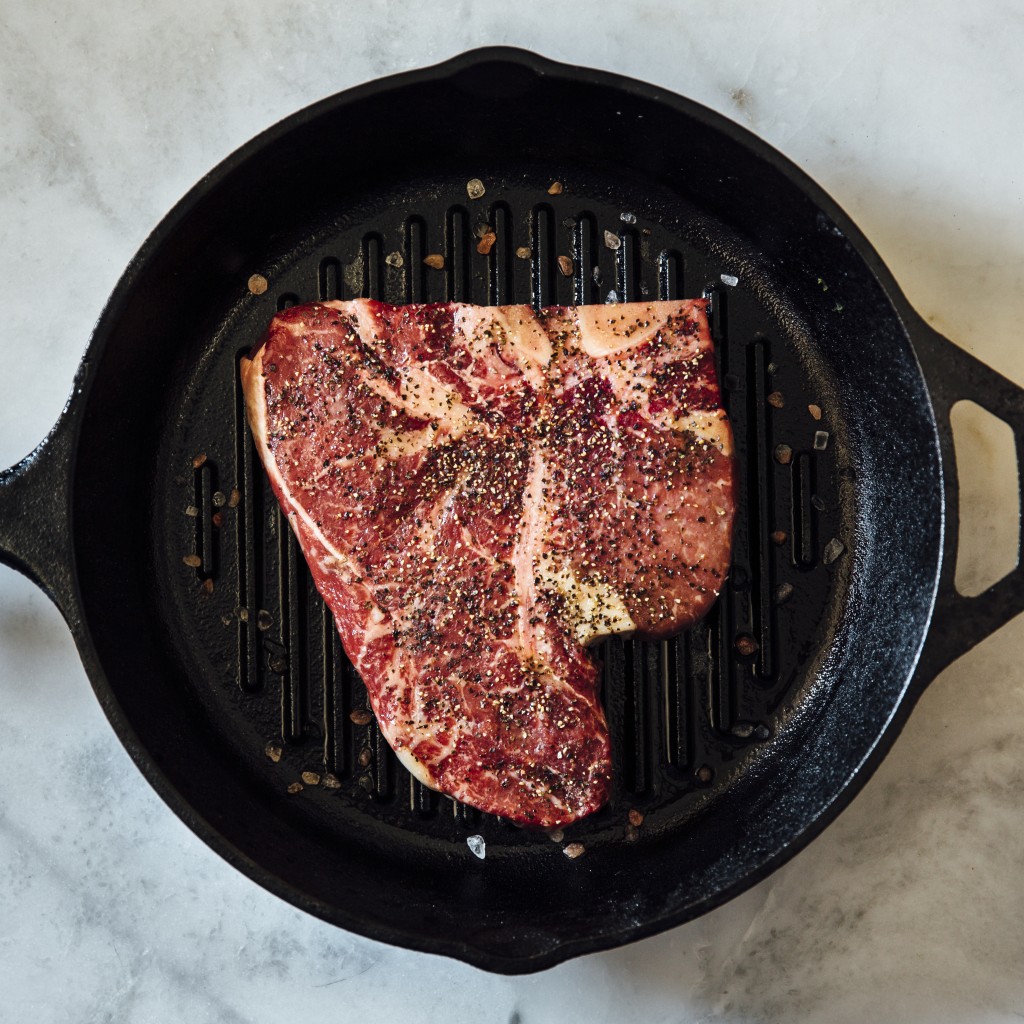 PICTURED WITH CHIMICHURRI SAUCE
2 cups packed fresh Italian parsley leaves
4 medium garlic cloves, peeled and smashed
1/4 cup packed fresh oregano leaves (or 4 teaspoons dried oregano)
1/4 cup red wine vinegar
1/2 teaspoon red pepper flakes
1/2 teaspoon kosher salt
Freshly ground black pepper
1 cup extra-virgin olive oil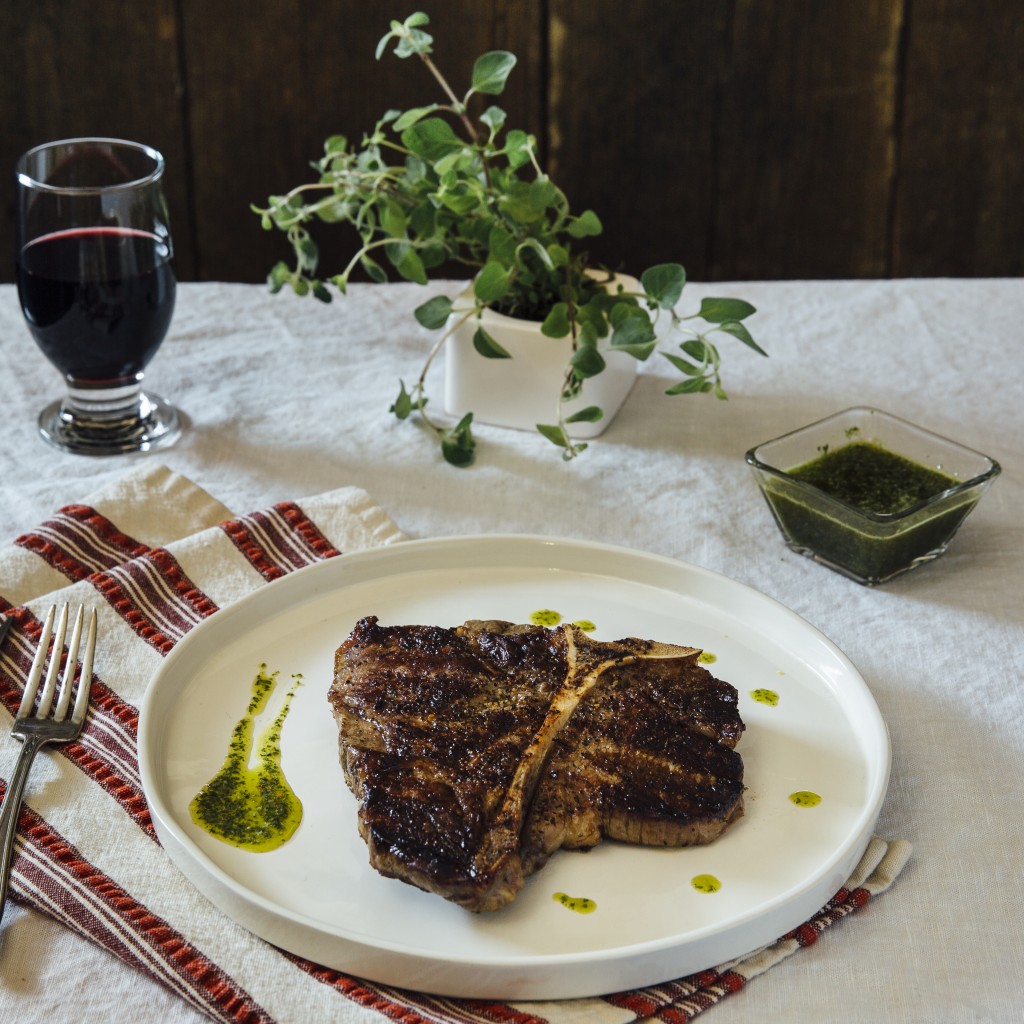 Place parsley, garlic, oregano, vinegar, red pepper flakes, salt, and pepper (to taste) in the bowl of a food processor fitted with a blade attachment. Process until finely chopped, stopping and scraping down the sides of the bowl with a rubber spatula as needed, about 1 minute total.
With the motor running, add oil in a steady stream. Scrape down the sides of the bowl and pulse a few times to combine. Transfer sauce to an airtight container and refrigerate at least 2 hours or up to 1 day to allow the flavors to meld. Before serving, stir and season as needed. The Chimichurri will last in the fridge for up to a week. Enjoy!
Stay up-to-date on our lastest recipes by following our Twitter or our Facebook and always knowing when there's a new meal to try.
For more amazing pictures of food, follow us on Instagram