Healthy Food Has Come Knocking on Your Door
When you're a working parent, there is so much to take care of: work, laundry, picking the kids up from school, helping with their homework, cleaning the house, and preparing meals. Picking up fast, take-out food sometimes seems more timely and realistic, but you really don't like spending that money every day on unhealthy food options.
Well, you can save a lot of time in the future by taking a little time now to sign up to receive monthly packages of protein from Premier Meat Company. Our new subscription model lets you choose to have high-quality, artisan meats sent directly to your door on a schedule! We offer different tiers, depending on how many people you are feeding, how often you want meat delivered to your home, and your budget!
● For a family of 2-4, you will receive 6-8 pounds of meat per week.
● For a family of 4-8, you will receive 10-12 pounds of meat per week.
You can choose to have meat delivered every week of the month, every other week, or just one week per month.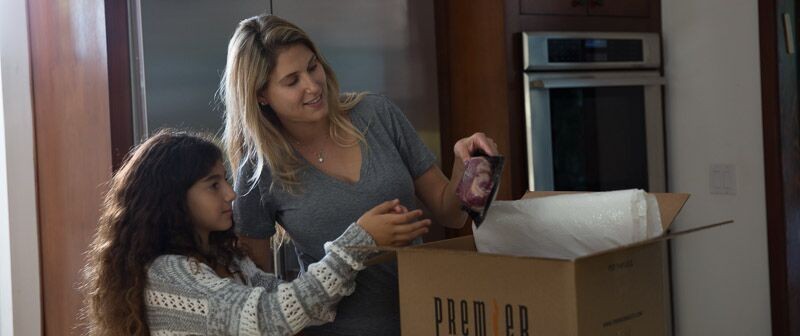 The greatest benefit of ordering fresh meats from Premier Meat Company, rather than purchasing at a supermarket, is that you're getting better quality and healthier pieces of meat, whether it's beef, fish, poultry, pork, or lamb. Premier meats are locally sourced from farms and environments that value sustainable practices. No antibiotics, hormones, or artificial ingredients are given to their animals. When you buy from a supermarket, you don't know where the meat came from, how it was raised or what it's been fed, but at Premier, we've made our sources transparent every step of the way.
In addition, the meat you order from Premier Meat Company is fresher than that from the grocery store. Your meat is cut only when your order has been received and it gets shipped to you fresh, never frozen. At the grocery store, you don't know how long that piece of chicken breast or pork tenderloin has been sitting in the package.
With our subscription, you can feel confident about the freshness and healthiness of what you are feeding your family. Never be short of inspiration for dinner, there are all sorts of healthy food recipes to try out and you can find a bunch of them on our recipes page, like chicken with a lemon and chile marinade, seared ahi tuna with sesame, and a salmon and spinach paleo salad.