USDA Certified Choice Cuts
The U.S. Department of Agriculture (USDA) will grade, or rank, proteins to different levels within their category (chicken, beef, etc.) to identify which cuts are more superior to others. Categorization into a certain level depends on different factors of characteristics of the meat. For chicken, the different grades are known as A, B, and C, for example. For beef, the grades are USDA Prime, Choice, and Select.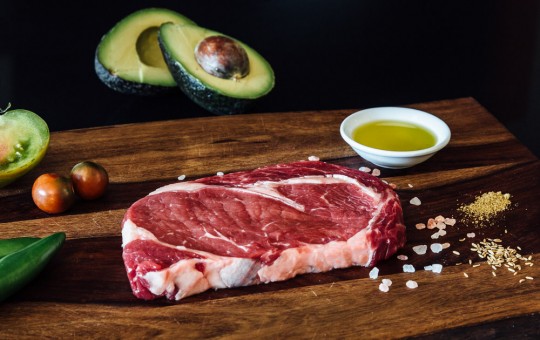 USDA Choice and USDA Prime – Whats the Difference?
As a general rule for beef grading, the higher the marbling and younger the beef, the better the grading. Higher marbling means the beef has more fatty tissue than, when cooked, provides a more tender, juicier, and flavorful meat. Younger beef means finer texture. USDA Choice is the middle category and consists of beef cuts that have modest marbling. Many cuts in this category, which is superior to USDA Select yet still inferior to USDA Prime, come from the loin and rib parts of the cow.
A Cut Above Average
Choice cuts may not be prime cuts, but they are absolutely nothing to scoff at. The average steak found in the supermarket or from other online retailers are considered the basic cut of meat – select. Select cuts are the leanest meats, missing some of the key fatty tissue needed to produce a juicy steak that can be seared, grilled or roasted while maintaining it's tenderness and flavor. USDA Choice cuts are high-quality and well-marbled meats that will shine with any recipe.
To yield the best cooked USDA Choice selections, practice dry-heat cooking methods. Dry-heat cooking utilizes air or fat, like broiling, roasting, and grilling. You can also braise and simmer to achieve a very nicely cooked USDA Choice meat that will melt in your mouth like any Prime cut can.
Why is the USDA Label Important?
If you are at the grocery store or supermarket looking to purchase quality beef, make sure to pick ones that have the official "USDA Choice" or "USDA Prime" sticker on it. A package that is stickered with "Choice" or "Prime" only without an official USDA certification can potentially be labeled incorrectly. Shoppers have no way to confirm that the grading on the package is accurate and true, leaving room for deceitful labeling tactics.
Premier Meat Company only offers the two top grades of beef, USDA Prime and USDA Choice; this is what makes us premier. Go to PremierMeatCompany.com to shop online and have your steaks delivered right to your door, fresh!