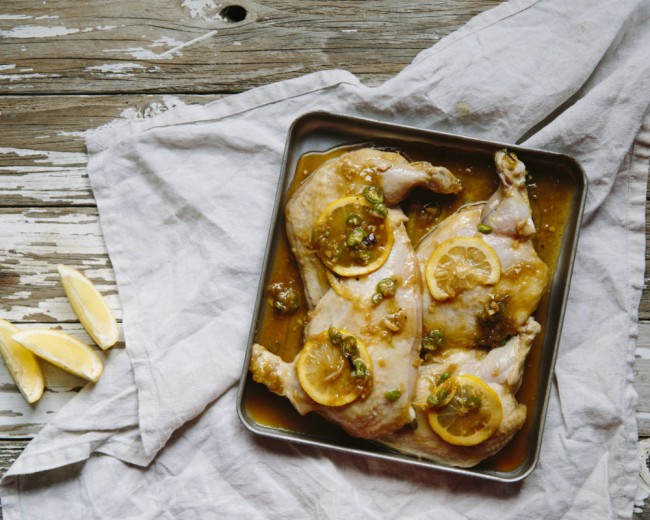 Lamb is often considered the height of fine dining. Most people go out to a nice restaurant and order the tender, rich meat because they're worried that they'll be unable to cook the meat at home.
Here at Premiere Meats, we want you to take a deep breath and take a chance. We think that not only will you find that you're capable of cooking perfect lollipop lamb chops, but that the experience will be far simpler and more enjoyable than you imagined possible.
We'll Get You Started
It's our belief that the hardest part of the cooking braised Frenched lollipop lamb chops is making sure that the meat is high quality. Too often, when people try to recreate the braised lamb dish they enjoyed when they went out, they purchase what they think is lamb, but which is actually mutton, meat that comes from an older animal, and which has a stronger flavor and stringier texture.
When you sign up for Meat the Butcher's premiere meat subscription you put yourself in a position where you never have reason to question the quality of the lamb you're preparing to braise. We work closely with each of the producers who supplies the lamb we tuck into the subscription boxes. The meat always comes from animals who are between six and fourteen months old, were raised on pasture and hay in a stress-free environment where they were never fed any artificial growth hormones or preservatives.
Each lamb chop our subscribers receives is 4ozs of sheer perfection. The name lollipop comes from the perfectly Frenched way the chop is cut, with a bone handle and a nugget of meat that looks just like an old-fashioned lollipop. We assure you, that once you've finished preparing the braised lamb chop, the meat will melt in your mouth. Each chop is perfectly marbled to ensure great taste.
  Our Tips for Perfectly Braised Lamb Chops
When it comes to entertaining guests, we feel that grilled Frenched lollipop lamb chops are hard to top, but for romantic evenings for two, especially on rainy or snowy evenings, you can't beat braised lamb chops. Not only do you get to enjoy a truly mouthwatering meal, but our recipe also ensures your kitchen smells fantastic.
What You Need
3 tablespoons of olive oil
4 garlic cloves
6 Frenched lollipop lamb chops
A teaspoon of salt
3 tablespoons of gourmet mustard (the higher the quality the better the final results will be)
A cup of dry red wine (we prefer Pinot, but some of our chef clients use a good Cabernet)
2 medium onions
½ teaspoon of ground black pepper (freshly ground is the best)
1 tablespoon of freshly, coarsely chopped rosemary
Either an oven-safe stew pot or a Dutch oven
Getting Started
While you pre-heat your oven to 300° F, you'll want to mince your garlic cloves. Cut your onions in half before slicing them into ¼" thick ribbons.
Put your stew pot on the oven, turn the heat up to medium, and add your freshly sliced onions and 2 tablespoons of olive oil.
Cook the onions until they start turning brown, at which point remove the onions and set them aside before pouring another tablespoon of olive oil into the pot.
Gently place all your lollipop lamb chops into the warmed oil. Cook each side until the meat has an even brown appearance. It usually takes about 3 minutes to evenly cook each side.
Add your minced garlic and let the meat and garlic simmer for about a minute before adding your lightly sautéed onions.
Mix your remaining ingredients together until they're smoothly blended and then pour the mixture over your lamb chops.
Cover your stew pot and move it into the pre-heated oven. Give the lollipop lamb chops 2-3 hours to cook. You'll know the chops are ready to eat when the meat is tender and starting to fall off the bone.
Serving Braised Lamb Chops
While there are a variety of different ways that you can serve your lamb chops, our favorite method is to pair the braised lamb chops with roasted baby carrots, lightly grilled fresh asparagus, or roasted baby red-skin potatoes. We pour the juice from the meat over the vegetables. The meal is excellent when paired with a good red wine, and crusty bread. For dessert, we suggest vanilla ice cream and warm apple crisp.
Fresh Meat Whenever You Need It
For more than 50 years, we've provided the finest restaurants and pickiest chefs in Southern California with the lamb chops they serve their customers each and every night, and thanks to our Meat the Butcher meat subscription service, you can enjoy the same outstanding Frenched lollipop lamb chops in the comfort of your own home. We've made the process easy. Simply fill out the online form, decide how frequently you want our fresh, never-frozen, carefully selected, high grade lamb chops delivered, and we'll take care of the rest.
In less than 48 hours, our lamb chops can be anywhere in the lower 48 states. As soon as our specially designed package with its gelled inserts arrives on your door step, you can remove the lamb chops and start braising them.
In addition to lamb chops, you can also turn to us for 8-bone racks of lamb, lamb loin Porterhouse chops, and lamb loin T-Bone chops.
Have questions, either about our Frenched lollipop lamb chops or our premier meat subscription service? Just contact us and we'll happily provide you with answers.