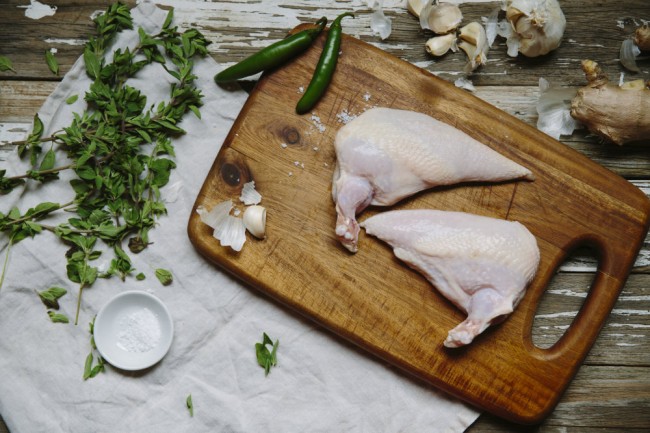 Both agriculture and eating in the United States is in a state of constant evolution. One of the big changes we're seeing is that an increasing number of livestock producers are moving away from beef operations and replacing their cows with breeding ewes and raising lamb instead of steers.
There are several reasons for the change in livestock, including:
The recent drought forced many California cattle producers to sell their beef herds
Sheep take up less space than cattle, allowing farmers with limited space to raise a substantial amount of livestock
Sheep don't eat as much as beef cattle, allowing farmers to keep their operating costs low
Sheep are smaller and therefore easier to handle than beef cattle, something that's important now that most farmers are senior citizens
It takes anywhere from 18-38 months to raise a steer while a lamb is ready to go market at between 6 and 14 months.
Sheep have a much shorter gestation period than cows, making it possible for producers to raise to batches of lambs per ewe each year
Sheep are more prone to multiple births than cattle, which also helps a farmer raise a maximum number of meat animals from a minimal breeding herd, resulting in lower overhead
Here at Meat the Butchers, we're also starting to see an upswing in the number of consumers who have eating lamb instead of beef. While each person has their own reasons for replacing a steak with one of our Frenched lollipop lamb chops, most customers love how:
Tender the meat is
The smaller chop size makes portion control easy
Lollipop lamb chops are easily prepared and very versatile
Lamb is an excellent source of conjugated linoleic acid (CLA) which aids with both cancer prevention and weight loss
We've found that once one of our customers get their first taste of all-natural American raised lamb, they can't get enough and they wonder why it ever took them so long to give lamb a try.
Types of Lamb Chops
For several years, Meat the Butchers has been providing Southern California restaurants with the best all-natural lamb they can handle, and now individuals who partake in our premier meat subscription service can also enjoy the exact same high-quality lamb chops whenever they want.
At this moment, we happily offer our customers three different types of lamb chops to choose from.
Frenched Lollipop Lamb Chops
Hands down, our Frenched grass-fed lollipop lamb chops are one of our most popular items, and we can understand why.
Our artisan butchers excel at taking the suburb racks of lambs our carefully selected farmers provide and using their skills with a knife to slice the rack into 4oz chops. After the rack of lamb is sliced, the butcher expertly "Frenches" the chops which consists of removing excess meat from the chop until they have created a lollipop effect that consists of a mouth-watering, red meat, lamb nugget, and a bone handle. Not only is the final effect elegant, making it very popular with Southern California's top chefs, but it also provides a concentration of the rich lamb flavor our customers can't get enough of.
There's a no limit to the number of different dishes the Frenched lollipop lamb chops can be prepared and do to the care and skill of our expert butchers, each time you serve these elegant lamb chops, they look like a work of art. We feel these are the best lamb chops for entertaining and romantic evenings.
Each of our Frenched Lollipop lamb chops weighs 4oz.
Lamb Loin Porterhouse Lamb Chops
Our pasture raised lamb loin porterhouse chops are one of the best cuts. These chops come from just behind the lamb's rib cage, where the meat is thick, tender, and bursting with flavor. You won't believe how juicy each Porterhouse lamb chop is. Each porterhouse lamb chop is cut in such a way that you enjoy a portion meat that comes from both the lamb's tenderloin and loin area.
When you place an order for our lamb loin porterhouse lamb chops, you have three different sizes to choose from:
8oz Porterhouse Lamb Chops
10oz Porterhouse Lamb Chops
12 oz Porterhouse Lamb Chops
We feel that these are the perfect lamb chops for family dinners. If you have leftovers, we suggest dicing up the remaining meat and making lamb stew.
Lamb Loin T-Bone Chop
Just like t-bone steaks are considered the best steaks, all-natural lamb loin t-bone chops are considered best cut of lamb you'll ever have. The cut, which is expertly handled by our artesian butchers, comes from the animal's short loin, just behind their rib cage. The texture and taste is divine. The meat's perfectly marbled. And each bite bursts with flavor. You can prepare lamb loin t-bone chops exactly the same way that you prepare a T-bone steak.
We offer our subscribers three different size lamb loin t-bone chops:
8oz T-Bone Lamb Chops
10oz T-Bone Lamb Chops
12 oz T-Bone Lamb Chops
Have High Quality Lamb Chops at Your Door in Just 48 Hours
When you subscribe to our premier meat subscription service, you make it possible to enjoy the finest lamb chops you've ever tasted in approximately 48 hours. Thanks to our specially designed container, we can ship lamb chops to anywhere in the lower 48 states without freezing the meat. FedEx delivers it right to your door while it's perfectly fresh and ready to be cooked.
Contact us today if you have any questions.